Pedestrian Bridges for New Trail Form in Central Basin of San Elijo Lagoon As We Continue to Connect Communities
This trail is for you!
Lagoon Restoration crews are building a new trail from the Nature Center to Solana Beach south side trails as part of the San Elijo Lagoon Restoration Project.
We soon will have a connecting trail, across the salt marsh, that officially links every lagoon trail experience in one continuous journey — from salt marshes and coastal dunes — inland to riparian forests and upland habitats.
Above: The pink line shows the new trail now under construction.
The yellow star is the Nature Center.
The falsework forms for the two bridges are nearly complete. Falsework is a temporary construction used to support vertical loads until a structure becomes self-supporting.
Photo above: Pedestrian bridge falsework form with crew member + Nature Collective Executive Director | Principal Scientist, Doug Gibson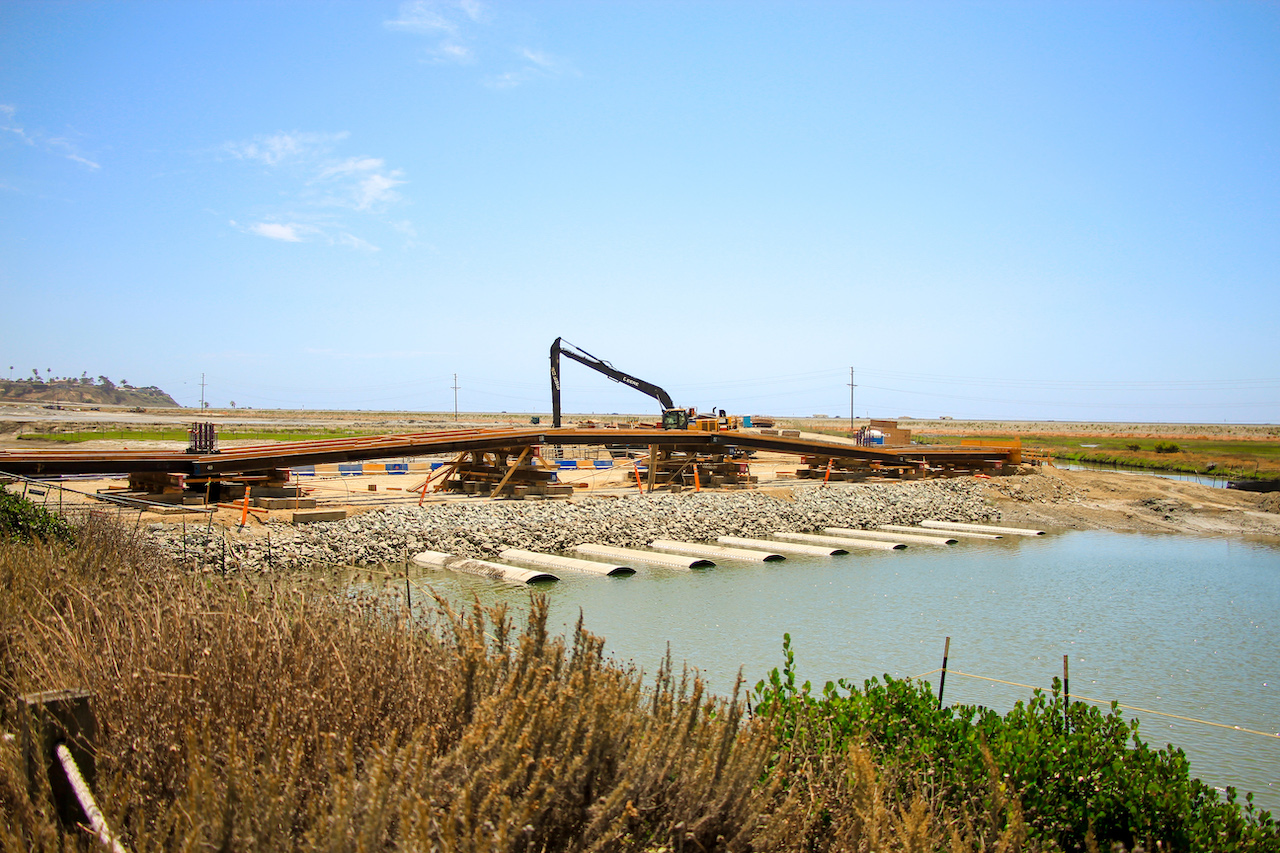 Photo above: Pedestrian bridge falsework form leading from the Nature Center over the main lagoon channel. This bridge will connect to a trail, then the westernmost bridge, back to south side trail.
The falsework forms for the second bridge will be completed at the beginning of August, with the concrete pour occurring later in the month.
When completed, this pathway will provide amazing opportunities to see, hear and photograph lagoon life from a unique vantage.
Possible close-up views of the elusive and endangered Ridgway's Rail will offer insights into how they thrive among their preferred habitat of California cord grasses at the edges of tidal channels.
Underwater: sea hares, sting rays, halibut and mullet will wow us with lives at the edge of land and sea. Twice-daily tidal flows are already reaching deeper and farther inland as a result of successful tidal channel sculpting.
We are planning a Grand Opening in mid-2020 for this new trail connection, which more importantly will mark the milestone completion of our $120 million multi-stakeholder San Elijo Lagoon Restoration project.
As part of Build North Coast Corridor highway and railroad improvements, additional trails and bike paths will soon be constructed. Visit Build NCC to learn more on these enhancements.
Image: Build NCC bike map
Here's to future connections!
Thank you for following our Nature Collective blog. Leave us a comment, a question, and we can continue to keep you informed.